MARANURA BRIDGE
CFC participates in the project "
FINAL STUDY FOR THE CONSTRUCTION OF THE MARANURA BRIDGE AND ITS ACCESSWAYS
"
of the
MINISTRY OF TRANSPORT AND COMMUNICATIONS OF PERU.
Go to the website of the Ministry of Transport and Communications of Peru
The CFC branch in Peru through its associate firm, HUALCA INGENIEROS, participates in the development of a concrete arch bridge solution of a 150 m long span, built by semi-arch rotation, in collaboration with the MARANURA CONSORTIUM, the enterprise to which the contract was awarded.
'CULTURA' BRIDGE OVER THE CHILI RIVER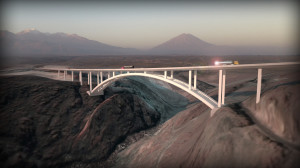 CFC also developed the project entitled 'CULTURA' BRIDGE OVER THE RIVER CHILI for the CLOTHOS-EPYPSA Consortium within the project of the Arequipa Regional Government: CONSTRUCION OF THE REGIONAL ROAD AREQUIPA-LA JOYA.
This is a project whose most singular element is a 370 m long bridge with a 175 m span steel arch over a 150 m deep ravine of the River Chili. The deck is made from a composite cross section with two trapezoidal box-girders and a concrete slab, carried out on precast preslabs.  The high seismic activity of the area -peak ground acceleration (PGA) of 0.45g- made us install viscoelastic shock-absorbing dampers in the abutments in order to resist earthquake actions. 
The arches are to be built applying the procedure of the semi-arches rotation with the help of provisional stay cables, a system proposed in different projects currently underway across South America and used by CFC in various recently built bridges, among which is The Viaduct over the River Tera in Zamora, Spain.
It is worth stressing that these two are the longest-span arches within their typology (upper deck arch) one steel and the other concrete, in Peru. These will also be the longest-span arches built in South America by semi-arch rotation.
Explanatory video on the semi-arch rotation and deck launching on the Viaduct over the River Tera in Zamora, Spain
Bridge data sheet of the Viaduct over the River Tera
FOOTBRIDGE OVER THE RIMAC RIVER IN CHOSICA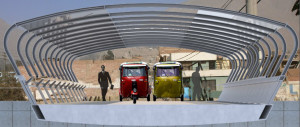 Profile Study (project draft) of the 'Los Estudiantes' Bridge over the Rimac River in the town of Chosica, Lima Province. Developed in collaboration with Hualca Ingenieros.
The project includes a bridge for pedestrian and lightweight vehicle traffic, as well as the improvement of the riverbed, access ways and urban environment.
LECTURE BY JAVIER MUÑOZ ROJAS AT THE PROFESSIONAL SOCIETY OF ENGINEERS OF PERU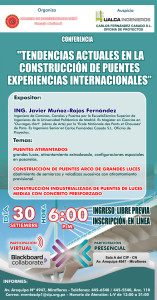 Javier Muñoz-Rojas Fernández, a senior engineer with CFC, will give a lecture entitled "Current tendencies in bridge construction. CFC´s International Experiences", sponsored by our partner Hualca Ingenieros on 30 September at the eminent Professional Society of Engineers of Peru.
Muñoz-Rojas will speak about cable-stayed bridges, construction of long span arch bridges and industrialised construction of medium span, prestressed concrete bridges.
Professional Society of Engineers of Peru
Social Share