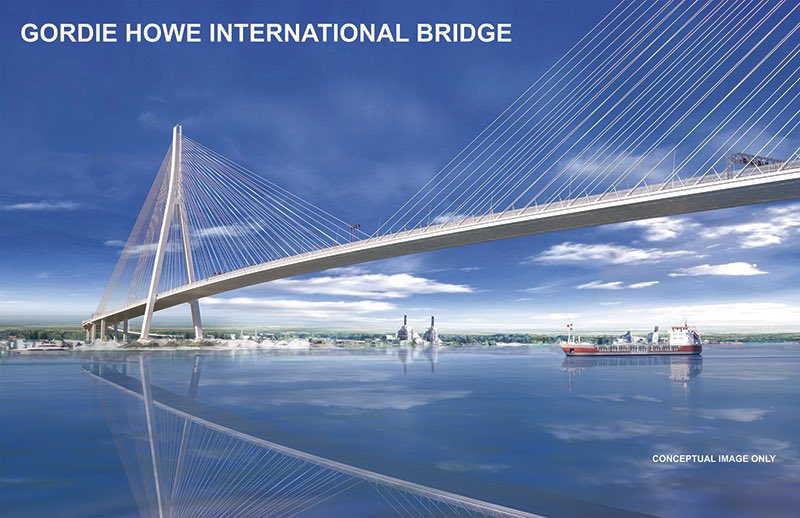 Windsor-Detroit Bridge Authority (WDBA) announced today that a significant milestone has been met in the public-private partnership (P3) procurement process with the selection of Bridging North America as the Preferred Proponent to design, build, finance, operate and maintain the Gordie Howe International Bridge project. Bridging North America's design will see it delivered as a cable-stayed bridge.
The key members of Bridging North America include: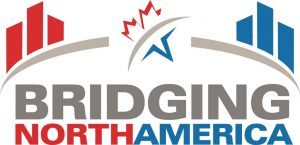 – ACS Infrastructure Canada Inc .
– Dragados Canada Inc .
– Fluor Canada Ltd .
– AECOM
– Carlos Fernández Casado S.L / FHECOR Ingenieros Consultores, S.A .
– RBC Dominion Securities Inc .
– Moriyama y Teshima Architects
– Smith-Miller + Hawkinson Architects, LLP.
The new bridge is expected to be one of the most outstanding bridges in North America, being the largest infrastructure project along the Canada-US border:
– Six-lanes: three Canadian-bound, three US-bound
– Total length: approximately 2.5 kilometres / 1.5 miles
– Clear span of 850 metres / 0.53 miles with no piers in the water
– One approach bridge on each side of the crossing to connect Ports of Entry in Canada and the US
– Cable-stayed and suspension are the two possible bridge types. Once complete, the Gordie Howe International Bridge will be among the top five longest bridges in North America.
– A dedicated multi-use path that will accommodate pedestrians and cyclists
The new Gordie Howe International Bridge will provide for redundancy at the busiest trade corridor between Canada and the United States with improved border processing and highway-to-highway international connectivity. It also addresses future needs and will provide six lanes to meet anticipated growth in traffic over the years to come.
Social Share