El pasado 20 de Enero, la Autoridad del Puente Windsor Detroit (WDBA), anunció los 3 equipos que han sido precalificados para presentar la Oferta de Proyecto y Construcción del Puente Gordie Howe.
Carlos Fernández Casado SL en UTE con Fhecor Ingenieros Consultores se encuentra nominada como empresa de Ingeniería especialista en grandes puentes dentro del equipo  "Bridging North América", liderado por el grupo concesionario y constructor español ACS y la empresa de ingeniería norteamericana AECOM. Más abajo pueden ver los equipos preseleccionados.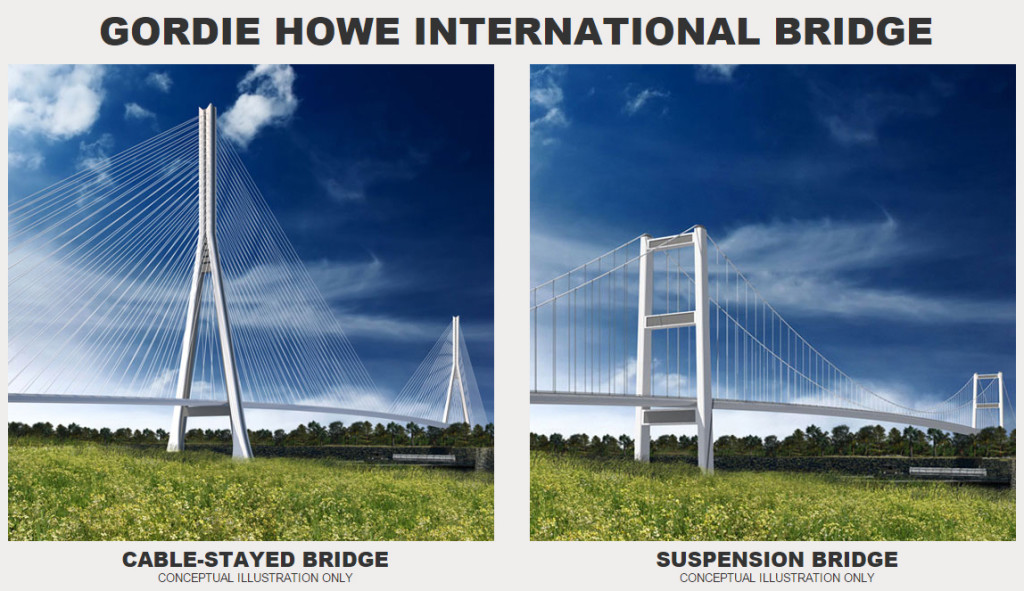 El Puente Gordie Howe será un Puente Internacional que cruzará el río Detroit entre las ciudades de Windsor (Canadá) y Detroit (EEUU). Tendrá una luz de 850 m y en los estudios preliminares se plantea una alternativa de Puente colgante o atirantado. En el caso de optarse por esta última solución será el puente más grande de esta tipología en Norteamérica y uno de los más grandes del mundo.
A lo largo del año de 2016 los equipos preseleccionados deberán presentar las propuestas de Proyecto de Construcción y a final de año se seleccionará la Oferta ganadora.
Bridging North America Team:
ACS Infrastructure Canada Inc.
Fluor Canada Ltd.
Aecon Concessions, a division of Aecon Construction Group Inc.
RBC Dominion Securities Inc.
AECOM
Carlos Fernandez Casado S.L/FHECOR Ingenieros Consultores, S.A.
Moriyama and Teshima Architects
Smith-Miller + Hawkinson Architects, LLP
Dragados Canada Inc.
Aecon Infrastructure Management Inc.
Turner Construction Company
Aecon O&M, a division of Aecon Construction Group Inc.
DBI Services, LLC
URS Federal Services, Inc. an AECOM company
Legacy Link Partners Team:
SNC Lavalin Capital Inc.
VINCI Concessions S.A.S
John Laing Investments Ltd.
HDR Corp.
Leonhardt, Andra and Partners (if Cable Stayed)
Aas-Jakobsen (if Suspension)
Alfred Benesch & Company
Golder
American Bridge Canada Company
SNC Lavalin Constructor (Pacific) Inc. (SLCP)
VINCI Construction Grands Projets
Barton Malow
DRICCA (Joint Venture with Ajax Paving, Dan's Excavating, C.A. Hull Co Inc., Toebe Construction, Amico Infrastructures Inc.)
SNC Lavalin Operations & Maintenance Inc.
VINCI Concessions
SNC Lavalin Security Consulting Inc.
CanAm Gateway Partners Team:
Fengate Capital Management Ltd
BBGI CanHoldco Inc.
EllisDon Capital Inc.
Bechtel Development Company, Inc.
Arup-Hatch Mott McDonald Design JV
Bergmann Associates Inc.
NORR Ltd
Bechtel Canada Co.
EllisDon Civil Ltd.
Traylor Bros., Inc
EllisDon Facilities Services Inc.
Egis Projects S.A.
Roy Jorgensen Associates Inc.
Social Share