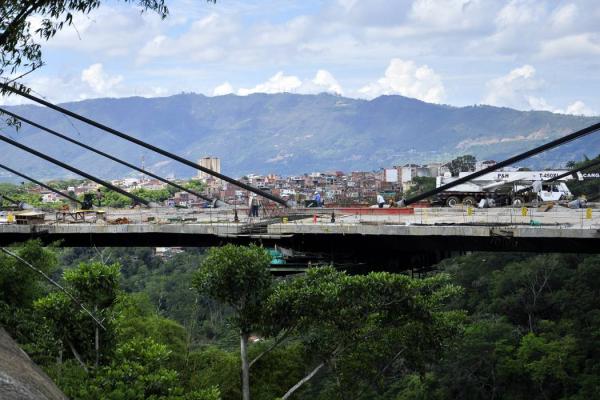 (Photo: Laura Herrera / VANGUARDIA LIBERAL)
Reproduced herein is the article published in Vanguardia.com (Galvis Ramírez y Cía. SA.) of Bucaramanga, Colombia, on the CFC project of La Novena Viaduct.
"The City Hall has announced the final joining of the two parts of La Novena Viaduct is to be carried out between Friday and Saturday of this week. The contractor still has two more months to complete this road infrastructure project.
The connection of the two ends of the bridge will enable the beginning of the finishing works on the bridge, such as the installation of the LED lighting, the partitions and the paving. 
The Secretary for Infrastructure, Clemente León Olaya, told our news desk that the last stay cable on the La Novena Viaduct has been installed and that the casting of the bridge deck is imminent.
According to the Secretary, the casting of the deck, one of the crucial moments in the construction process leading to the subsequent joining of the two bridge ends, is scheduled between next Friday and Saturday.
It is worth stressing that La Novena Viaduct has 20 pairs of steel stay cables, the last one of which had not yet been installed given that strict protocols had to be fulfilled in order to achieve the utmost precision of adjustment. This required a thorough tension calibration process in all stay cables. Furthermore, approval of the Spanish designers was also requires.
Forthcoming actions
Once the two bridge ends are joined, the building contractor (Carrera Novena Viaduct International Consortium) will be able to initiate finishing operations such as the installation of partitions and pavements as well as safety barriers and the paving of the six carriageways.
The lighting contractor will also be able to begin the installation of the public lighting system which will use high power LED light. This system will eliminate the need for light poles, while at the same time saving energy since it is one of the most power-saving and environment friendly light sources on the market.
Both contractors are working round the clock in order to meet the deadline, scheduled for 22 December, the day of Bucaramanga´s 392nd anniversary."  read on…
Social Share