The CAMINOS Foundation and the Official Association of Civil Engineers have decided the seventh edition winner of the Segovia Aqueduct Award, which is aimed at highlighting the importance of environmental concerns in the construction and operation of public works.
After analyzing all the candidates, the winner was the 1812 Constitution Bridge over the Cadiz Bay" for its worldwide importance, the technical challenges overcome and use of the most modern construction technology to build the bridge, in addition to its contribution to society and adaptation to a unique location, the Cadiz Bay National Park. The construction of the bridge considerably improves the movement of people and contributes to the economic and social development of the city and its surrounding towns".
"The standard of the works submitted shows the high level of Spanish companies and civil engineers, not only from a national perspective but also because they are in high demand overseas due to their know-how" said Juan A. Santamera, the Chairman of the Association.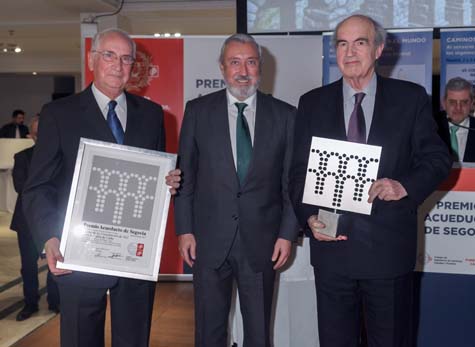 An Honorable Mention went to the Viaduct over the river Ulla on the Atlantic High Speed Corridor and the Leopoldo Calvo-Sotelo Award was granted to Salvador Sanchez Terán for his public leadership.
Social Share